Jack Ostrowski, DDS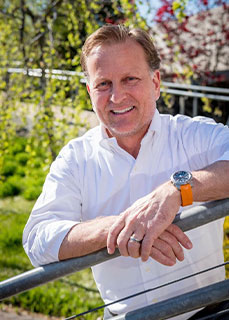 Dr. John A. Ostrowski earned his Doctor of Dental Surgery degree from the Marquette University School of Dentistry in Milwaukee, Wisconsin in 1989. During his second year of dental school, he was awarded the Dr. Tom Laur Award for service above self. Before attending dental school, Dr. Ostrowski graduated from Nazareth College in 1985 with majors in both Math and Science, and he also studied at Western Michigan University. He is a graduate of the Las Vegas Institute of Cosmetic Dentistry, and he is a member of the American Academy of Cosmetic Dentistry. Dr. Ostrowski owned a private cosmetic practice in Coopersville, Michigan for twenty-two years, and worked in public health for two years as well.
Dr. Ostrowski is committed to providing high-quality oral health care and the latest in cosmetic dentistry. His goal as a dentist is to provide dentistry for the quality-conscious!
When he is not hard at work improving your smile, Dr. Ostrowski enjoys big game hunting out west, fishing, and coaching and playing hockey. He holds a hockey coaching degree in Advanced Level 5 Masters Coaching. Dr. Ostrowski is married to his wife Leslie and together they have 5 children.
Joshua Wansten, DDS

Dr. Wansten was born and raised in Grand Rapids and is excited to be back in West Michigan after spending many years in Chicago. As your dentist, Dr. Wansten's top priorities are to work with you to help you understand your treatment options, help you achieve your optimal oral health and make you smile and laugh!
When he is not at work, he and his wife Sonya enjoy trying new recipes in the kitchen, cheering for the Wolverines any chance they get and walking or biking through beautiful Gaslight Village with their three children.